Gaya Koleksi Raya 2017 ~ Fashion Forward Hari Raya!
There is always such an intense build up of excitement in the air when it comes to the advent of Gaya Koleksi Raya 2017, one of Malaysia's most highly anticipated fashion events of the year.
Organised yearly by online fashion retailer, FashionValet, guests and media are treated to a fashion show preview of the collections by various designers at the Black Box Publika together with an opportunity to shop the products at a pop up store in White Box!
Yes, no more waiting for months anymore, you can just try on your desired outfits and buy them instantly even before they are available online!
Here's a snapshot on some of the shows we attended:
ALIA B. & ALIA BASTAMAM
Alia Bastamam presented both her ready to wear and luxe collections this year and we couldn't help ourselves falling in love with her super- feminine collections which would make any wearer feel effortlessly chic.
We liked the fact that the silhouettes look so comfortable yet still have that undeniable sophistication and fluidity so synonymous with the Alia Bastamam brand!
MIMPIKITA & NELISSA HILMAN
This year Mimpikita wowed us with their aptly themed collection "Marrakech on the Mind" which celebrates the colours and textures of the exotic lands of the Mediterranean and Middle East. Jewel toned outfits with plenty of gold and silver embellishments, swayed their way down the catwalk to the amazement of the crowd.
The collection also presented a special collaboration with Malaysian shoe designer Nelissa Hilman. All the looks were paired with shoes exclusively created for the collection, giving ladies an option to shop for a complete outfit from head to toe.
WOO/FIZI WOO
Woo/FiziWoo presented a simply stunning ready to wear collection which was an ode to days gone past. The silhouette of the outfits seemed to accentuate and elongate the frame which created an effect both elegant and flattering.
As always, we loved the impeccable styling of the outfits which Fizi Woo never fails to presents us with at each fashion show, giving that distinctive finish to the overall look. The added accessories of a head scarf and flower embellished sunglasses, unmistakably portrays a Audrey Hepburn-esque throwback to 1950s fashion, Malaysian-style!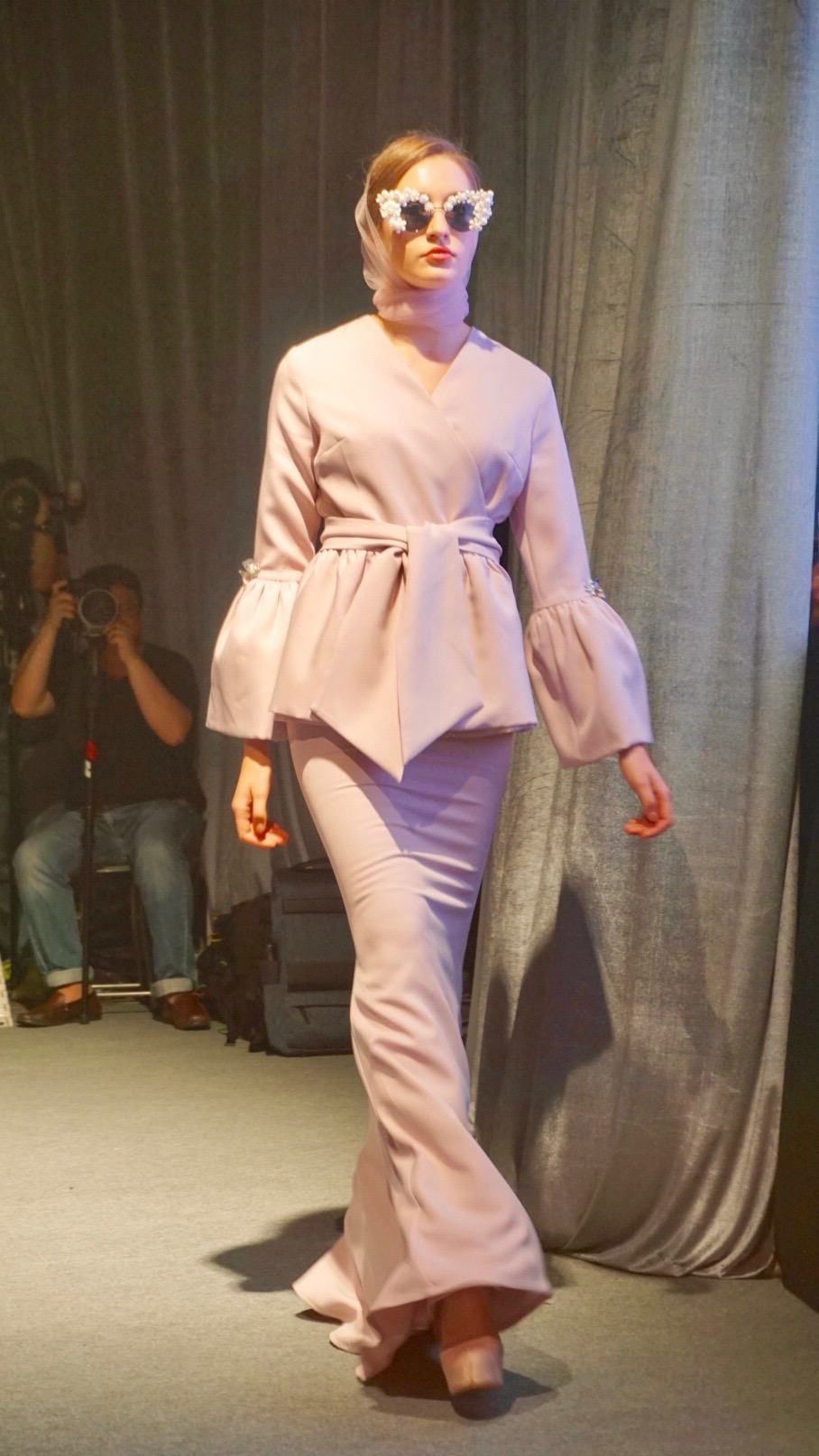 It was pretty interesting for us to see how experimental or imaginative the designers could get away with using different fabrics, textiles or silhouettes . I personally think that this really gives us an insight into the designer's creativity when it comes to showcasing the Malaysian national dress of kebaya or kurung and infusing it with modern elements to give the outfit a total new look year after year. The whole showcase had medium priced to high range items from RM 199 - RM 1900 so there are many different options for shoppers to choose from.
To summarize our thoughts on Gaya Koleksi Raya, we can't help but be grateful to retailers like FashionValet that give us shoppers the chance to grab affordable and fashion-forward outfits at the drop of a hat.
Gone are the days when you had to go to shop for your kain (materials) and then visit your tailor months in advance to ensure your Raya outfit will be made in time. Now we truly have the chance to choose from so may different platforms to purchase ready-to-wear options from traditional to modern baju either online or at their physical stores, This certainly fits in perfectly with our busy lifestyles and we look very much forward to see what comes in the year ahead!
- FARENA
Note: If you still haven't found your Raya outfits , why don't you pop on over to FashionValet's outlets in Pavilion KL or Bangsar Village. They still have plenty of gorgeous outfits to make this Raya an unforgettably stylish one!
This is the second Gaya Koleksi Raya held at Publika organised by FashionValet and event managed by Andrews Models. You can either get hold of these pieces at their online shop www.fashionvalet.com or at their stores in Pavilion KL or Bangsar Village II. FashionValet also ships internationally to Indonesia, Brunei and Singapore!
We would also like to thank our amazing partners :
and of course FashionValet and Andrews Models for the invitation!